The Growler
Regular price
Sale price
$29.99 USD
Unit price
per
Sale
Sold out
The Growler is great for the Urban Gardner/Plant Parent. If you live in an apartment or condo are someone who enjoys houseplants or an outdoor balcony garden, the Growler is the perfect size for you. 
This will be more than enough to use on all of your indoor and outdoor plants. Our microbial fertilizer is shelf stable and can be used all year round. 
We recommend using Earth Medicine every 4-6 weeks in your potted plants for regular maintenance and adding it to any plants your repot.  


Each bottle contains between 65 - 130 applications of product, depending on the size of the container. (Large plants = 65 applications, small plants = 130 applications). 
Ingredients

Dairy manure.

Which is then sustainably composted into aerobic compost. From there we transformed this compost into our granular organic fertilizer through our unique manufacturing process.

We are OMRI Certified for organic use.
Shipping & Returns

All orders are shipped from our Idaho distribution center. We typically fulfill orders within 4-5 days.
Size

The Growler contains 2lbs of product and is great for people who have under 10+ house plants or if you enjoy having a small balcony garden.
Care Instructions

The Bottle MUST be opened every 4-6 weeks in order to guarantee freshness of the product. Our product is alive and needs to breathe. If the bottle is not opened regularly, your product will begin to smell, as the product gases build up within the bottle. This does not effect the quality of the Earth Medicine, but it is not a pleasant smell. So please take care of your product and us it regularly.
Share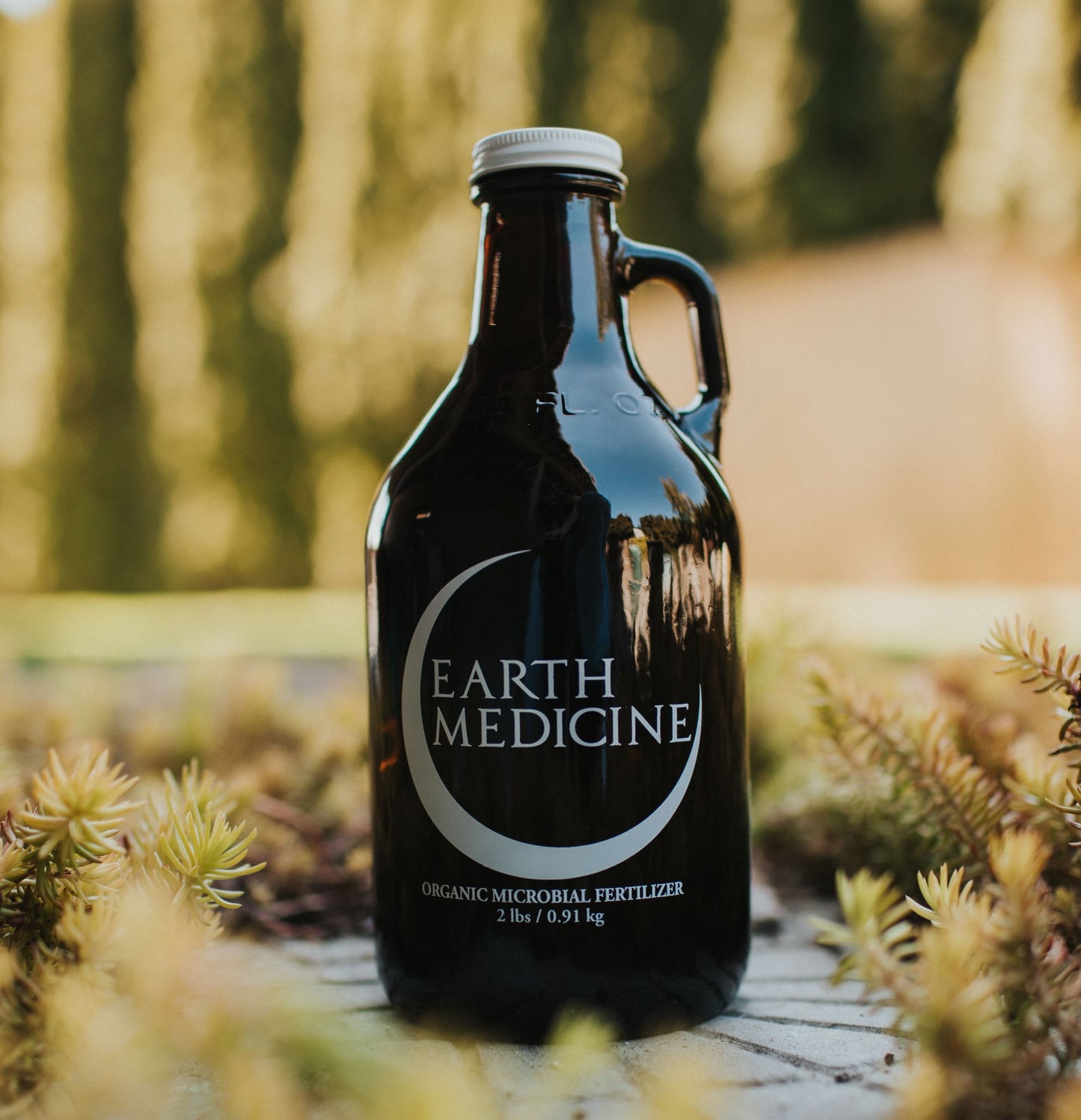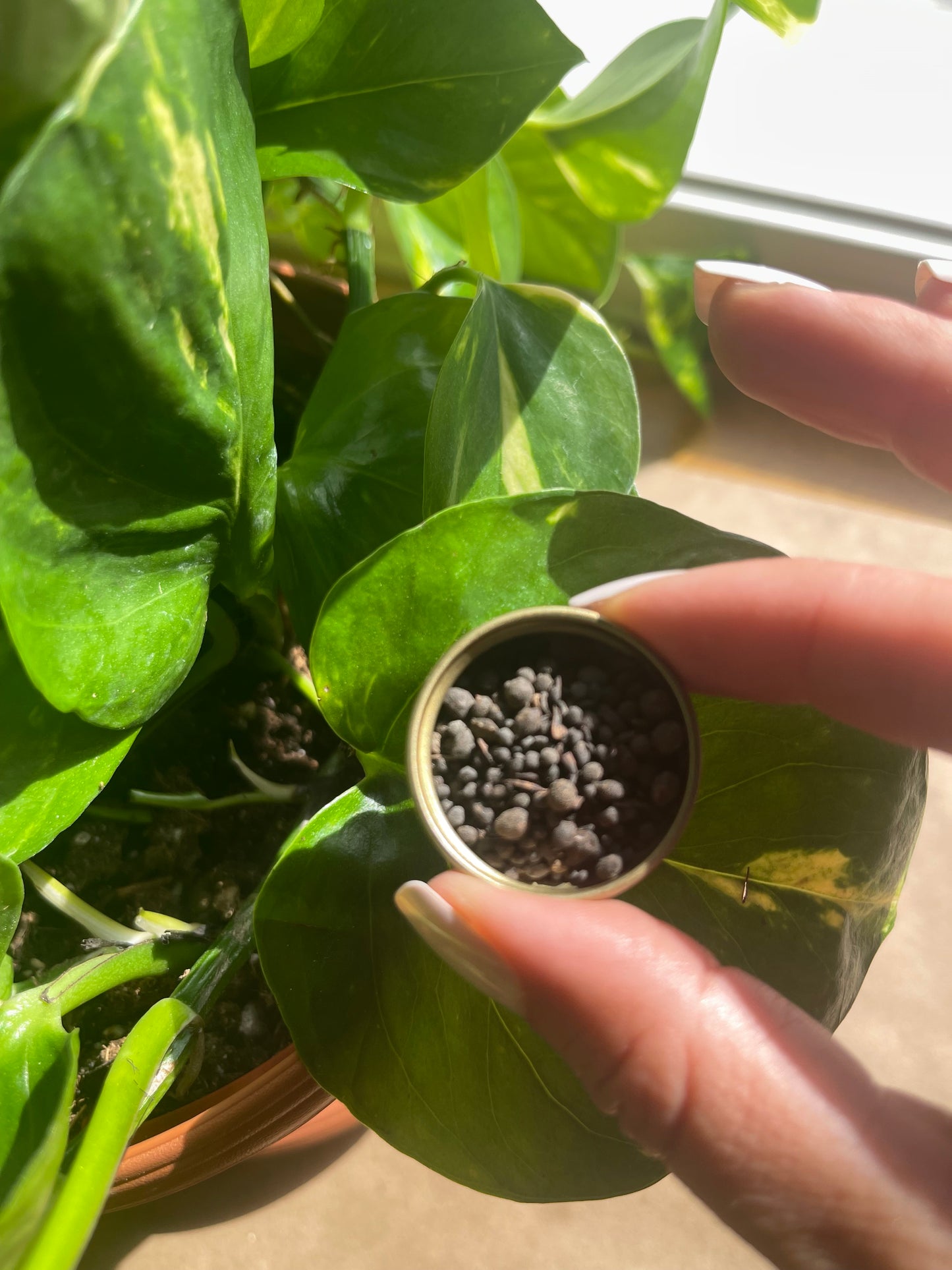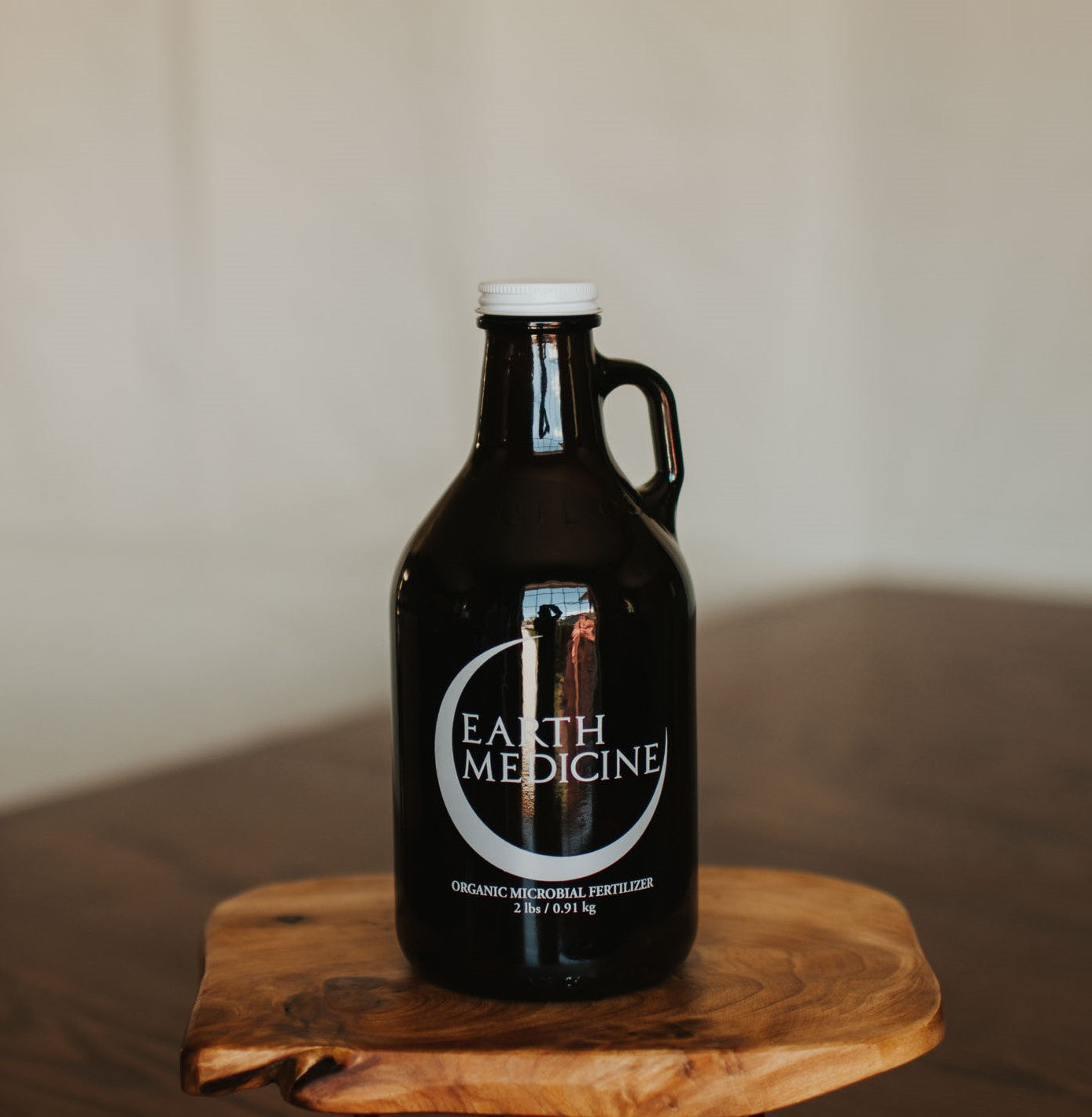 Plant baby magic
Ok do yourself and your plants a favor and get this product ! I've been using it and let me tell you my house plants have never been happier. I'm going to attach a photo of one month difference and you see for yourself.
Amazing
I really like this product
Amazing stuff!
I use this fertilizer for propagations and without fail, roots grow so quickly on all of my cuttings. I also love that it isn't liquid, it makes no mess!
An Essential for the garden - especially in high desert
I have been using earth medicine for a few months now and have noticed a drastic difference in my garden growth. I live at 9,000' above sea level and a very tough micro climate compared to other places at 9,000'. It's very dry,
hot, intense sun, thin atmosphere, high winds, cold nights… you name it and we probably have dealt with the issue… AND grows twice as slow as it does at lower elevations due to our specific atmosphere and so I needed something that would give my plants a boost… This is much more cost-effective than buying larger bags of compost and truly does work. I've experimented specifically with my corn… Started some corn with earth medicine and some with a nitrogen based fertilizer … The corn that started with earth medicine is significantly larger and looks much healthier than the other corn planted. What I love about this product is it essentially adds beneficial bacteria/microbes to the soil… It doesn't overload your soil with excessive nutrients that it possibly does not need like many other fertilizers. So, when using this I don't find that I'm getting as huge of an influx of aphids to my garden plants like I used to when using other fertilizers.
Incredible products!
I've been using Earth Medicine for my plants in soil and they are thriving! I can't wait to try it on my plants in LECA. I'm super picky about what I feed my Monstera Aurea and it's loving this brand. ❤️
Let customers speak for us
Free Shipping

Free shipping on all orders over $40